With more and more products hitting the market that have to do with Garage home improvement, it is starting to become alot easier and cheaper into turning that old smelly garage into more liveable square footage in your home to enjoy.
1. Set a Budget
Always the first step with any type of Home renovation is to set a budget and stick to it. Luckily most garage renovations are fairly simple and require little skill for a homeowner to complete themselves.
2. Consider your walls before starting
Most garages have either cinder block, brick, Studded walls, drywall or a combination of both.
The cleaner and simpler the better!
Clean up studded walls or unsightly walls with drywall or install paneling to hang tools, storage cabinets or accessories.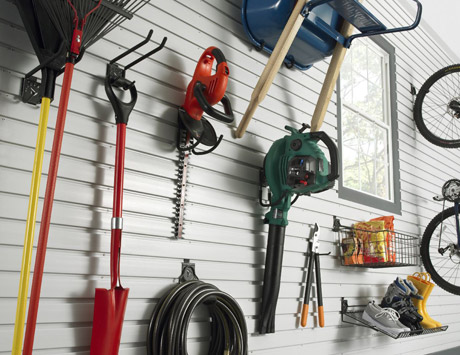 Now is the best time to consider if you want to make your garage a space you will work in the colder months. If so consider insulating the garage before putting up any drywall to help with heat retention.
2. Paint your Garage
This will be the most cost effective thing you can do to bring your garage to life. Drywall, cinderblock or Brick you can paint it all. Check with your local paint store to determine the type of paint they would recommend for these types of applications. Usually exterior paint will be able to cover all of these finishes. If your not particular with the colour look for some off tints that have either been returned to the store or mistakenly mixed for a even bigger paint discount!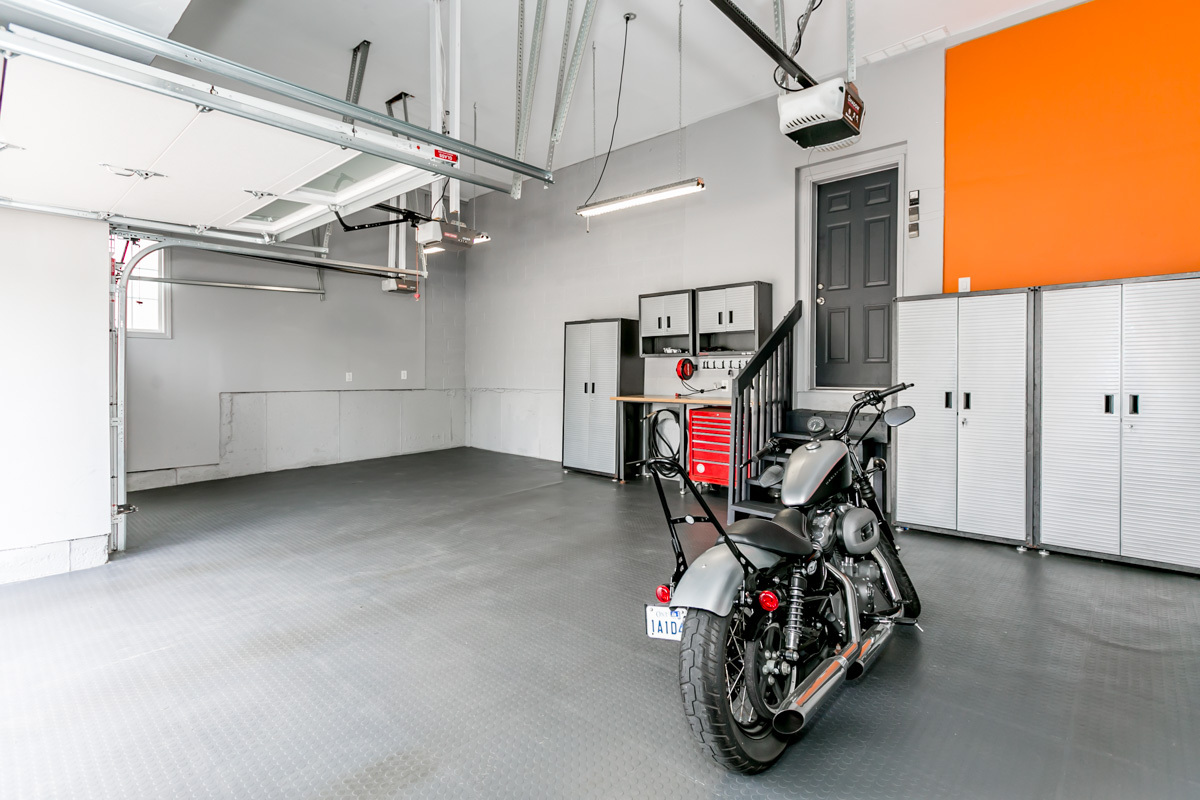 3. Flooring
If the concrete on your floor is in great shape consider painting it with a garage flooring product with epoxy that can withstand oils, spills and anything else that may find its way on the floor in a garage. Particularly have seen great results with https://www.canadiantire.ca/en/pdp/epoxyshield-garage-floor-coating-kit-0489701p.html#srp.
If your concrete is very unsightly and want to clean it up with out repairing the concrete first, consider laying garage floor tiles. They will also resist any sort of spills and turn your garage floors quickly into a beautiful finish. Try out these!! https://www.lowes.ca/product/garage-floor-tile/blue-hawk-20-in-x-20-in-gray-coin-pattern-interlocking-garage-tile-302299
4. Lighting
Now for the finishing touch! Light up your garage with some new lighting to help you see what you are doing when working in your newly renovated garage. Look for a light that diffuses the light well so that it covers a wide area.
Garage lighting can be either suspended from the ceiling or mount flush with the ceiling if you have a low overhead.
We are big fans of this shop light with a built in bluetooth speaker so you can listing to your favourite artists while working on your ride. https://www.homedepot.com/p/Commercial-Electric-40-in-64-Watt-Equivalent-Integrated-LED-Brushed-Nickel-Black-Shop-Light-with-Bluetooth-Speakers-4000K-Bright-White-54569141/207077391
Good luck with your renovations and enjoy your new space!